Human–Tech Speaker Series
Exploring how a human-centered approach to problem-solving can be realized in our technology-focused world
The Human–Tech Speaker Series is co-sponsored by the College of Humanities & Social Sciences and UT Academic Affairs at Utah Tech University
Fall 2023 Speaker
Sylvester Johnson
Sylvester Johnson, an award-winning scholar engaged in exploring humanity in the age of intelligent machines, is the director of Virginia Tech's Center for the Humanities. He also serves as the university's assistant vice provost for public interest technology.

The newly established Center for the Humanities, based in the College of Liberal Arts and Human Sciences, reflects Virginia Tech's commitment to elevating the presence and profile of humanities disciplines across the university.Johnson also is a professor in VTU's Department of Religion and Culture.


Johnson's compelling vision to infuse the intellectual life of the university with insights from the humanities is directly applicable to Utah Tech's new polytechnic mission. "UT's polytechnic mission is grounded in a human-centered approach to problem-solving" noted Stephen Lee, the dean of UT's College of Humanities and Social Sciences. "That vision is deeply influenced by Virginia Tech's model of placing humanities at the center of tackling complex, rapidly-changing problems. Dr. Johnson is a primary architect of that vision. We are pleased he will be sharing that vision with us in his November 6 talk."

Prior to joining Virginia Tech, Johnson served as an associate professor of African-American studies and religious studies at Northwestern University. There, much of his research has focused on the intersection of religion, race, and colonialism.
"As advancing technology continues to transform virtually every domain of modern life, the consequences for human relations — and humanity itself — only heighten the overarching significance of humanities research and teaching," Johnson said. "After decades of handwringing over whether the expansion of technology threatens the relevance of the humanities, we're beginning to witness our technological age pushing 'big humanities' questions to the forefront of our most urgent concerns."

Johnson also believes it is time for a new conception of university education. "As we tackle the momentous challenges now emerging, we must ensure that humanities teaching and research take center stage," he said. "The moment of the humanities is not behind us; it's actually in front of us."

Johnson is a founding co-editor of the Journal of Africana Religions. He has authored two books: African American Religions, 1500–2000: Colonialism, Democracy, and Freedom, published by Cambridge University Press in 2015 and a winner of the Choice Outstanding Academic Title Award, and The Myth of Ham in Nineteenth-Century American Christianity: Race, Heathens, and the People of God, a 2004 Palgrave MacMillan publication that garnered the American Academy of Religion's Best First Book Award. Johnson also recently co-edited, with Steven Weitzman, The FBI and Religion: Faith and National Security Before and After 9/11.

Johnson holds an M.A. and a Ph.D. in contemporary religious thought from the Union Theological Seminary, where he also earned an M.Phil. in systematic theology. He earned his bachelor's degree in chemistry and education at Florida A&M University.
Jennifer Keating
Jennifer Keating is a Teaching Professor and the Writing in the Disciplines Specialist in the William S. Dietrich II Institute for Writing Excellence at the University of Pittsburgh. Most recently, she served as Assistant Dean for Educational Initiatives in the Dietrich College for Humanities and Social Sciences at Carnegie Mellon University.
Her interests include curriculum design and delivery, collaborative pedagogical design and interdisciplinary teaching. As a teacher, she explores writing and artistic practice that develops in locations in conflict and/or emerging from strife, primarily in Ireland, Britain, South Africa and the United States; the influence of advancing technology on society; and the politics of language.

In recent years she has designed and taught courses in Composition and that cross disciplines. These include: Writing Places, Digital Humanity, First Year Program Who's Watching Who? at the University of Pittsburgh. At Carnegie Mellon University she taught Art, Conflict & Technology, designed and taught in collaboration with an artist and a roboticist, and AI & Humanity, designed and taught with a roboticist.

Recent book publications include the forthcoming Portraits of Irish Art in Practice: Rita Duffy, Mairéad McClean, Paula McFetridge and Ursula Burke (2023 with Palgrave Macmillan), AI & Humanity (MIT Press 2020) coauthored with Illah Nourbakhsh, Patrick McCabe's Ireland (Ed. Brill 2019) and Language, Identity and Liberation in Contemporary Irish Literature (Palgrave Macmillan 2010). She is coauthor of the AI and Humanity Oral Archive and recent articles have appeared in IEEE, AAC&U Liberal Education, ACM and Critical Quarterly.
Adam Dorr
Dorr, the Director of Research at the RethinkX think tank, visited Utah Tech for a day of small group interactions on Tuesday, September 20, 2022. His public talk, Rethinking Humanity: Reasons for Optimism Amidst the Disruptions explored many of the issues that he discusses in his new book, Brighter: Optimism, Progress, and the Future of Environmentalism (2022).

Dorr is an environmental social scientist and technology theorist whose recent RethinkX publications have focused on the disruption of the global energy sector by new energy generation and storage technologies, as well as the implications of the energy, transportation, and food disruptions for climate change.

Dorr regularly presents RethinkX's work on stage, radio, podcasts, and television and has more than a decade of teaching, lecturing, and public speaking experience. He completed his MS at the University of Michigan's School for Environment and Sustainability and his PhD at UCLA's Luskin School of Public Affairs.

RethinkX is an independent think tank that analyzes and forecasts the speed and scale of technology-driven disruption and its implications across society. The organization produces impartial, data-driven analyses that identify pivotal choices to be made by investors, business, policy and civic leaders. The organization's book, Rethinking Humanity, is available for free download here. Watch his talk here.
Scott Hartley
The Fuzzy and the Techie author was the inaugural speaker in the
Human <–> Tech Speaker Series at Utah Tech University (February 10, 2022). Watch it here.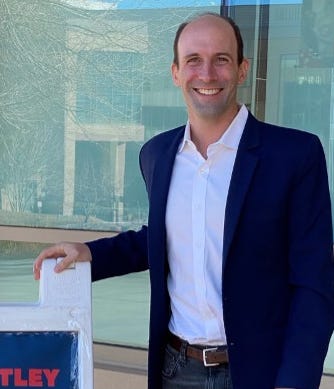 The Human <–> Tech Project
The interactions--and tensions--between humans and technology date back to the first time a human used a rock as a tool. These tensions, in other words, are as old as the species. Today, however, with virtually every aspect of our lives as humans intertwined with technology, the nature and implications of the human-tech relationship are more profound.

Utah Tech's move to a polytechnic mission makes these questions especially important. How will we define the relationship between the human and the technological? How will we as a university explore and enable what we learn?

The Human <–> Tech speaker series began in November 2021 as a way to reflect on the intersections of technology and society. The series seeks to foreground the "human-centered approach to problem-solving" that is a centerpiece of Utah Tech's new open, inclusive, comprehensive, polytechnic model.

Join us as we explore these big questions.